Environmental IoT monitoring that delivers real-time data to drive transparency, responsibility and sustainability.
Adroit Environmental Monitoring Solutions
Adroit Environmental Monitoring solutions deliver accurate, real-time environmental data, visualised on any connected device via the Adroit app. Environmental data can aid critical decision making, compliance, mitigation, reporting, and Health & Safety. It can also increase operational efficiencies, sustainability and help reduce resource wastage.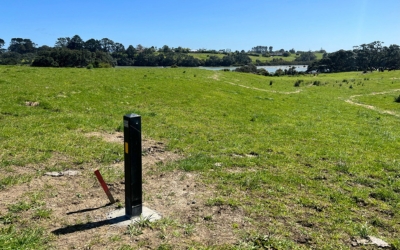 Groundwater monitoring is essential for preserving New Zealand's valuable aquifers from damage or degradation. And with increased scrutiny and Council regulators, all kinds of businesses are moving to improve their groundwater measurement and reporting capability, including major construction and infrastructure companies throughout the country.
A big year for weather disasters has seen roading damage throughout New Zealand, and as we head into the tail end of the year it seems that almost no region has remained unscathed.
This has seen Waka Kotahi NZ Transport Agency racing to catch up with required repair work to our roads throughout the country.
Spark completes acquisition of Adroit to boost its presence in environmental monitoring solutionsSpark New Zealand today announced it has signed a conditional agreement to acquire all of the remaining shares in leading environmental Internet of Things (IoT) provider...
Other installs and activations
Site managers in construction, civil and heavy industry can visualise environmental site data straight from their phone or connected device at anytime. Customisable alerts let the user know when an environmental threshold has been reached, this aids significantly in compliance, mitigation, downtime on site, and providing an healthy and safe worksite for employees and communities.
Real-time, managed monitoring solutions for ground water levels, tilt metering, and vibrating wire for geotechnical applications across a range of industries such as construction, structural and civil engineering, infrastructure, dams and rail.
Quick and easy setup, with rugged case enclosures for transportation. Portable Monitoring Kits give you accurate real-time data for ultimate on-site visibility, so you have data for better management of health and safety, compliance and complaint mitigation.
Real-time, managed solutions to accurately measure environmental water parameters across a wide range of use cases and industries, such as freshwater catchments and marine environments, worksites, heavy industry, stormwater and site run off, agriculture, and E. coli monitoring.
The ability to continuously monitor environmental weather parameters in real-time including rainfall, wind direction/speed, humidity, pressure, temperature and solar radiation in a variety of applications, provides data that can assist in critical decision-making and environmental management.
Adroit monthly subscription plans
This worksite monitoring product is available on a fixed monthly subscription of 24, 36 or 48 months. Subscriptions include web/mobile app, training, support, real-time network connectivity, monitoring equipment, installation, maintenance, and removal. All worksite solutions can be customised to client requirements, contact Adroit for more information.