NZTA: New Technology for Slip Monitoring Trialled on a South Island Highway
A big year for weather disasters has seen roading damage throughout New Zealand, and as we head into the tail end of the year it seems that almost no region has remained unscathed.
This has seen Waka Kotahi NZ Transport Agency racing to catch up with required repair work to our roads throughout the country.
A new tool in their arsenal is the EWS Tiltmeter, a device for detecting ground movement, first developed for mining operations in Australia and used extensively by the likes of Rio Tinto. Distributed by Adroit in New Zealand, this device is designed to work in rugged and remote locations with a high degree of accuracy, easy installation and zero maintenance.
The EWS Tiltmeter utilises either the Spark IoT or Iridium satellite network to transmit highly accurate rotational data in two axes, and pick up land movement as slips start to happen, or give early warning that one may be starting.
It is the only unit available in New Zealand that has the option of satellite connectivity for remote locations without IoT network coverage. And being battery powered with a 5-year expected battery life, it has the advantage that it can operate through any kind of natural disaster when normal communications are lost.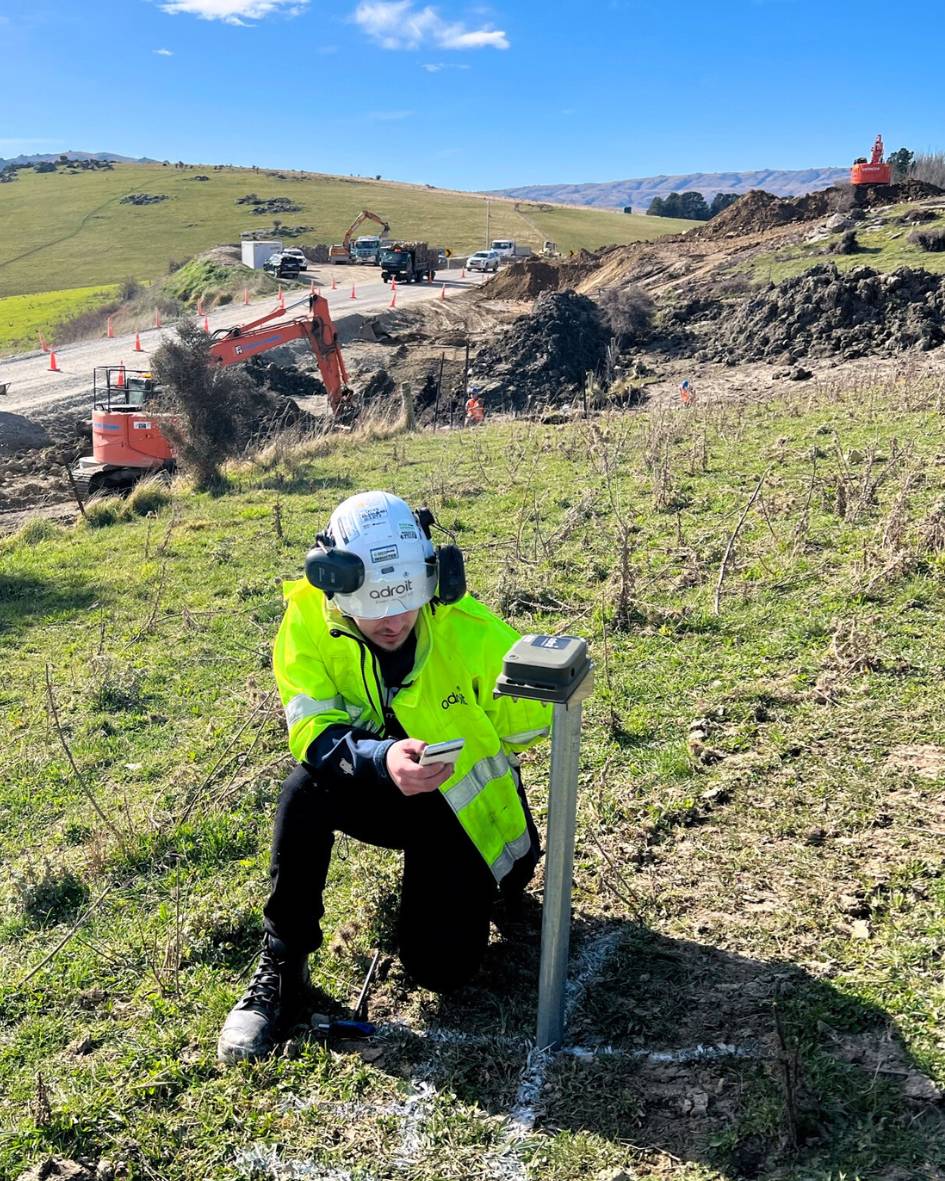 Earlier this year, Adroit assisted in the first Waka Kotahi trial installation of the EWS Tiltmeter on a slip site on State Highway 8 in the Lower South Island, between Roxburgh and Alexandra. Waka Kotahi Transport Services System Manager for the Lower South Island, Robert Choveaux says the installation is working as desired.
There has been a slow-moving slip in that area for a number of years. And with the recent weather events, it really started to accelerate. I'd had an earlier meeting with Adroit looking at monitoring solutions and knew about the Tiltmeters – which are perfect for monitoring this type of slip – so, we purchased five of them for the trial," Choveaux says.
A huge benefit of these units is that each device can communicate individually. Multiple units can be placed in an area and don't need a base station. There's low cell coverage in this area as well, so we're able to connect to the Iridium satellite network.
Choveaux says that the region is prone to some significant, nearly instantaneous weather events. But this year has been exacerbated by a winter of dramatically changeable weather, with snow and below-zero temperatures overnight, and then plus-degree temperatures during the day with constant snow melt. So, the ground is very saturated and a lot more susceptible to failure.
With the slip threatening to fall onto the State Highway, Waka Kotahi wanted to monitor its progress. Working with Adroit, they placed the five Tiltmeters on poles in and around the slip area, in areas of both 'known' and 'unknown' stability.
We've seen smaller and larger slips appear in and around the area of the direct failure. So, we wanted to monitor some of the ground that wasn't moving to see if there was any relaxation as a result of moving some material," Choveaux says.
"It's all about setting a baseline to see what movement we're facing.
Choveaux reports that everything has been operating as promised and data is being received throughout all weather conditions.
"We've got plenty of data from them and the good thing is that we aren't actually seeing any recent movement. We've put a lot of effort into draining the slope to make sure that we aren't getting any significant failures. We did see one of the units record some movement, but that correlated to where we were redirecting some of the water. So, the data that's been coming through has been very reliable," he says.
As yet there are no alerts configured on the Tiltmeters on the slip, but this is planned for future installations and potentially for providing data for a Trigger Action Response Plan (TARP), where alerts are triggered at particular levels of movement.
And in the future, Choveaux says he can see the potential for units that could be rapidly rolled out to multiple slip areas after a significant weather event – to take the pressure off recovery teams and increase safety for roading crews and the public.
"So, once we get beyond this, we'll be able to really test how far we can use these," Choveaux says.
"We've only looked at Tiltmeters at the moment, but there are VWPs (Vibrating Wire Piezometers) which accurately measure the pore water pressure of the ground, and extensometers – devices that are used to measure changes in the length of an object – and other things as well, which we could look to in the future," he says.
Global Business Development Manager for EWS, Liam Jeffares is a Kiwi himself, so he knows all about the local terrain and the struggle with cellular coverage and communication networks in New Zealand.
He is understandably enthusiastic about the Waka Kotahi trial and the potential for EWS Tiltmeters in New Zealand.
EWS Tiltmeters were the first, and as far as we know, are currently the only product of its kind in the world that can do remote tilt monitoring over both satellite and cellular connectivity.
Before our product was released on the market, there was no option for this kind of remote monitoring at scale without the need for a radio network or a cellular network for communications.
Whereas ours are all individual transmitters, which allows the scalability and the ability to have a distributed network and not have to worry about communication infrastructure to get that data out
EWS Australia cut their teeth providing technology for the mining sector and are industry leaders in providing remote monitoring for critical geotechnical applications such as rail embankment, excavations and landslip monitoring.
They partnered with Adroit earlier this year to bring their wide range of sensors to the New Zealand marketplace. Their EWS Telemetry Tiltmeter in particular is a product that Jeffares believes has large applications in New Zealand.
"In the past you would have to install gateways and try and get line of sight radio connection back to a centralized transmitter and things like that, which involves not only more cost, but more risk for critical monitoring when you've got a single point of failure for any network," says Jeffares.
So, it's not only cost-effective, but reduces the amount of time that the install team need to actually spend in the field, which comes down to efficiencies and safety for the staff and a whole range of benefits.